Jeffrey S Hillman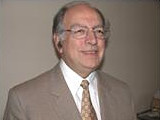 Jeffrey S Hillman is a Consultant Ophthalmic Surgeon with special interests in cataract and refractive surgery and glaucoma. He implanted intraocular lenses for over 25 years and ran national courses on intraocular lens power calculation for 20 years.
Jeffrey is a former Consultant Ophthalmic Surgeon at St James's University Hospital in Leeds. He was actively involved in teaching ophthalmology trainees and has 40 published papers and was in active clinical practice until 2020.
He is a Principal Expert and Chairman of the UK delegation to the ISO Committee which sets international standards for intraocular lenses and ophthalmic medical devices.